Royal BC Museum goes Prehistoric!
posted on June 1, 2012 by Kara Johancsik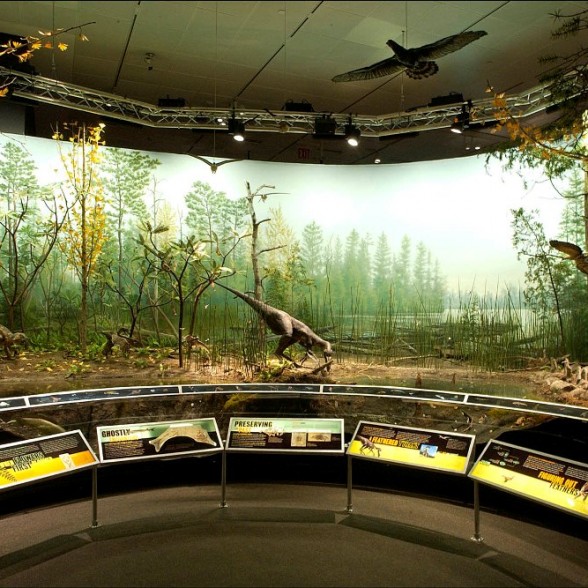 If you used to spend hours as a kid envisioning yourself in a prehistoric world home to stegosauruses and tyrannosaurus rex, then the Royal BC Museum's new exhibit, Dinosaurs: Ancient Fossils, New Discoveries, is for you. The Royal BC Museum brings dinosaurs to life using new research, exciting fossils, moving displays, and lifelike dioramas in their new exhibit. It's the next best thing to time travel!
If you think a dinosaur museum exhibit is all about dusty old fossils, think again. Fossils usually tell us what the inside of a dinosaurs body looked like by showing the structure of its bones or muscles. But certain fossils on display at the Royal BC Museum Dinosaurs exhibit show the outside of the animal as well! If you look closely, you'll be able to see colours and patterns, like stripes, on the fossil.
The exhibit also features a biomechanics display that brings dinosaurs to life. Have you ever wondered how creatures of such a huge size moved around the Earth? This fascinating combination of physics, engineering, and paleontology shows interactive 3-D displays of how dinosaurs moved.
Finally, you won't want to miss the dinosaur diorama, the main attraction of the exhibit. You'll be able to catch a realistic glimpse of an environment in Mesozoic China. The realistic dioramas are what make the Royal BC Museum famous, so don't miss this new installment!
To make the whole experience easy, we've got a package that provides you with two tickets to the Royal BC Museum in addition to your two-night stay, as well as tickets to Butchart Gardens, Craigdarroch Castle, and a bunch of other attractions. Check it out here!