BurgerQuest 2012 - Round One - bin 4 Burger Lounge
posted on January 6, 2012 by Ian MacPhee
The Burger ... oh how it has changed since the 1100's when Genghis Khan's "Golden Horde" conquered 2/3rds of the known world fueled by raw ground meat patties tenderized between their saddles and their mounts.
Thankfully today's burger has risen up the culinary ranks and can now be found in many forms from the simple to the sublime. In 2012 Innkeeper Ian will explore Victoria's exploding burger scene and share with you the best places to enjoy this wonderful treat.
Well what a great place to start 2012's BurgerQuest! This sleek and cool spot opened in November of 2011 and is located a mere 20 min walk from Abbeymoore. I pass by bin 4 regularly and I took it as a good sign that it is always jumping with smiling burger devotees.
As the name suggests they specialize in burgers and beverages in a relaxed, lounge style atmosphere. Choose from a seat at the bar, tall lounge tables or comfy booths with subdued lighting. The menu features 15 burgers as well as a great selection of small plates and salads.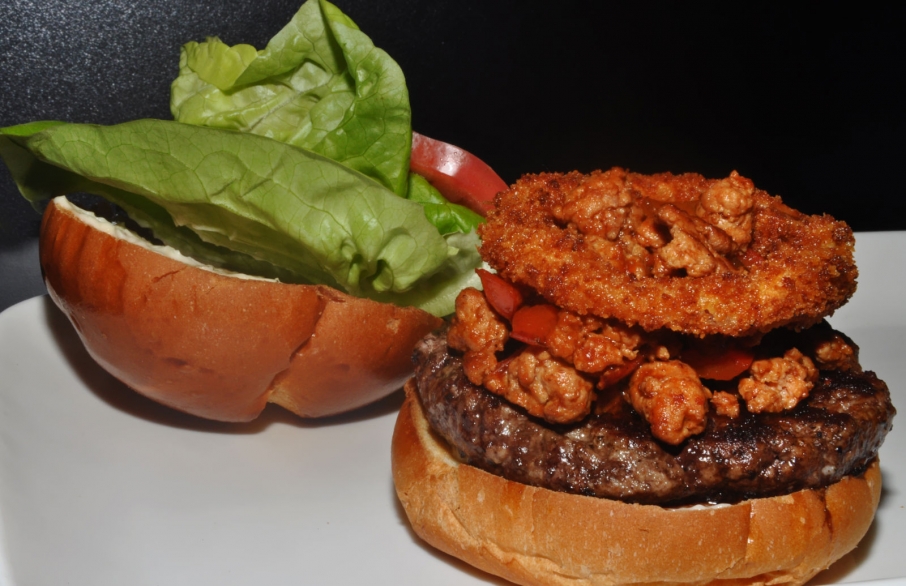 Bin 18 the "Dirty Bourbon" burger stood out and our server Emma confirmed it was "popular with the guys". I was drawn to its inclusion of an onion ring, chorizo red onion & red pepper saute & chipotle bourbon bbq sauce but Emma quickly pointed out that January's special was also a worthy contender.
Taking her recommendation I ordered Bin 96 "The Bison Burger". This beauty had a 6oz Peace River bison patty with 5yr aged cheddar, crispy fried onion strings and the house's roasted jalapeno, lime & tomatillo hot sauce. Completed with butter lettuce, tomato and jalapeno aioli it was delicious with just enough zing.
Being a lamb lover Anne had two choices and opted for the Bin 47 "My Big Fat Greek Burger" with a 6 oz Peace Country lamb patty, olive tapenade, oregano yogurt, feta cheese, butter lettuce, tomato & red onion. Judging by her reluctance to share I know it must have been outstanding!
Burgers run between $10-$15 and come with outstanding fries (with house dips) or mixed green salad. For a small surcharge you can sub onion rings or a specialty salad. I opted for the Almond Praline Blue Cheese salad with crisp apple and was not disappointed. I would be remiss if I didnt comment on the quality of the buns. It's clear that food quality is of the utmost importance and no detail is ignored.
If you are a night owl bin 4's "Late night" special offers you an amazing 50% off your burger after 9pm as long as you purchase a beverage. Take out and group dining are also easily arranged.
So fellow burger lovers we're off to an amazing start with BurgerQuest 2012 thanks to bin 4. If you have any comments or burger joint suggestions send'em my way.
Until next month ... Chow :)