Abbeymoore Honored with 2013 TripAdvisor Award
posted on January 23, 2013 by Ian MacPhee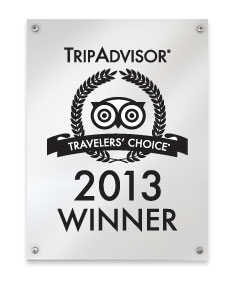 The 2013 TripAdvisor Traveller's Choice Awards are out and once again Abbeymoore Manor has been honored as one of the country's best B&B Inns. This year we remain as the #1 B&B Inn in Victoria and made the Top 25 in Canada at position #11.
These awards mean a lot to us as they reconfirm that our efforts to provide an enjoyable getaway are succeeding!
Thank you to everyone who stayed with us and shared your experiences online. Hope to see you again soon.
Cheers!
Ian, Anne, Michelle & Stephanie