Tour-riffic Tours Part 4: Take a Hike!
posted on March 9, 2013 by Kara Johancsik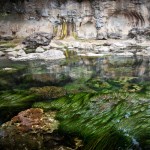 Escape from the streets of Victoria and get some quality one-on-one time with Vancouver Island's wildest wilderness, complete with gourmet lunch and guided interpretation. During your next visit to Victoria let us book you a tour with Rainforest Tours and spend some time off the beaten path, hiking mossy trails through West Coast forests, wandering along wind-swept beaches, and climbing up coastal bluffs for the epic views. If you're looking for a way to get out in the woods, Rainforest Tours offers all kinds of escapes at a reasonable price.
Thousands of visitors flock to the west coast of Vancouver Island every year to see the unique ecosystem of our coastal temperate rainforest. Rainforest Tours offers adventure tours through East Sooke Park and the famous Juan de Fuca Marine Trail. Hike locations include China Beach, Mystic Beach, Sandcut Beach, or Botanical Beach along the Juan de Fuca Marine Trail, and Aylard Farm and Copper Mine Trail in East Sooke Park.
The Juan de Fuca Marine Trail and East Sooke Park are two protected parks that offer equally stunning but very different scenery. Along the Juan de Fuca Trail you'll find lush rainforests, long beaches, and crashing surf. Head to East Sooke Park to climb jagged cliff bluffs, walk down winding trails and see exposed coastline. Hikes can be as serene as adventurous as you want, so let Rainforest Tours know what you're looking for, and they'll cater a hike to your needs!
You can choose to do a half-day hike or a full-day hike. All tours include transportation to and from your inn, a gourmet lunch (think locally grown salads, a choice of chicken, vegetarian, or seafood for a main course, dessert, and a hot or cold drink!), and a backpack to carry your belongings. Half-day trips are $95, and full-day trips cost $125.
Contact Abbeymoore for more information and to start planning a memorable outdoor escape.