Victoria's Ska Fest 2013
posted on June 25, 2013 by Kara Johancsik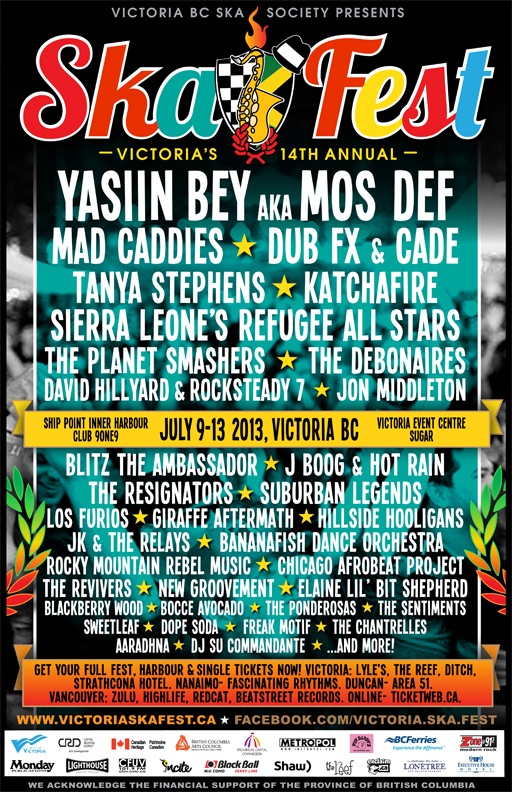 Victoria's annual Ska Festival is one of the oldest festivals of its kind in North America, and with one visit, it's easy to understand why. The festival offers something for people of all ages, backgrounds, and musical persuasions. For a week every year in July, the Ska Festival brings the heavy rhythmic beats of dub, reggae, ska, hip-hop, and global roots to venues around Victoria.
Ska Fest features local talents, stars of the genre, and little-known acts from all over the world. It aims to surprise and energize audiences with music people may have never heard before, as well as with familiar beats of well-known artists.
This year's headliners include Dub FX, Yassin Bey A.K.A Mos Def, the Chicago Afrobeat Project, the Mad Caddies, Tanya Stephens, Rocky Mountain Rebel Music, Sierra Leone Refugee All Stars, Katchafire, and more.
The Ska Festival loves to feature artists with unusual or unexpected stories, and this year is no different. Dub FX (Benjamin Stanford) was a beatboxing street musician in the UK, little known to North American audiences until his videos on YouTube went viral. His subsequent success has brought him gigs at some of the biggest festivals in the world, including Coachella, Glastonbury, and Shambhala. You can see him play at Ship Point in the Inner Harbour on July 13th.
Sierra Leone Refugee All Stars's name holds true to their roots. Their music grew out of a refugee camp where the musicians sought safety during a brutal civil war. Their story was told through a documentary film that has since won awards at several major film festivals around the world. They will be playing at Ships Point in the Inner Harbour on July 10th.
Check the schedule and lineup to see who else is playing during this vibrant festival. The Ska Fest features a combination of ticketed and free performances. You can purchase a ticket to the entire festival for $139.50, or a pass for shows in the Harbour for $75.00. Tickets can be purchased online or at specified venues in Victoria, Duncan, Nanaimo and Vancouver.
See you there!