Glorious Gardens Package ($95)
You'll be all a'Flutter with this Flower Filled Fling!
Many gardens in Victoria are world famous and Victoria is known as Canada's Garden City. Where else are there flowers blooming in January! Abbeymoore Manor & Victoria's Historic Inns have teamed up with some of Victoria's most famous gardens to offer a Glorious Gardens Package. Spend two nights at Abbeymoore and receive entry to 3 of the city's iconic gardens: Butchart Gardens, Abkhazi Gardens and The Butterfly Gardens and take home a fabulous basket of gardener's goodies.
The Glorious Gardens Package is sure to put a spring in your step as you explore the 26 acres at The Butchart Gardens, a National Historic Site and one of the world's premier gardens. A visit to the exquisite one-acre Abkhazi Gardens, created in 1946 by Prince and Princess Abkhazi, invites an escape from modern life with its majestic trees and dramatic views. In 2009, Canadian Gardening magazine named Abkhazi Gardens as one of the "Five Must-See Gardens in Canada". The Victoria Butterfly Gardens is a tropical paradise featuring flamingos, rare tropical birds, 200 species of orchids and about 2000 butterflies.
Each garden invites the visitor to leave behind the daily grind, to relax and smell the roses and the petunias and the frangipani and the ....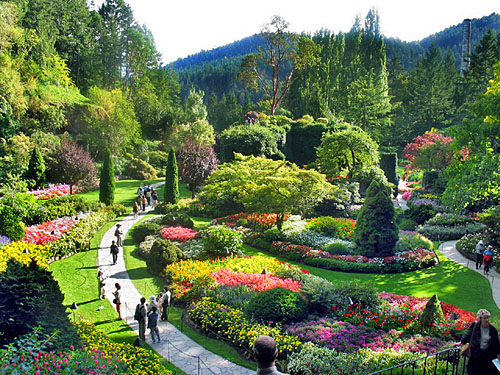 This package includes:
Dig into this amazing package by adding $95* to any two night stay!
*plus applicable taxes - only $89 in the winter/shoulder seasons!
We're historic... and boy do our gardens grow!
Click Here For More Great Packages!