Breakfast Woes
posted on April 29, 2010 by Anne
They (who is they anyway?) say that the second part of B and B is the most important part. Breakfast! It's simple right? I remember a few pretty memorable Sunday morning feasts before we ever thought of getting into the bed and breakfast business. It was fun coming up with creative ways to use leftovers from the night before. Everyone has fed a monster breakfast to overnight guests and it's not a big deal right?
Our first breakfasts were not so much trial and error but more attempts to revise recipes we had come across or perhaps used before but now they are being served to guests that are paying for the experience. Initially it was very stressful and we focused a lot of energy and time on those mornings. In our the first year it was way more difficult than it should have been.
One particular morning that comes to mind was a morning that we had a group of 8 folks travelling together so they all sat at the communal table at the same time. We were a bit nervous as it was our first big breakfast, this is likely about day 9 for us. We decided to make eggs bennie, back then we used package hollandaise sauce! The eggs went in to poach, the english muffins were toasting, the ham was heated and ready to go, the plates were hot, the guests had had their first course of scones and fresh fruit salad, and we had just cleared the plates.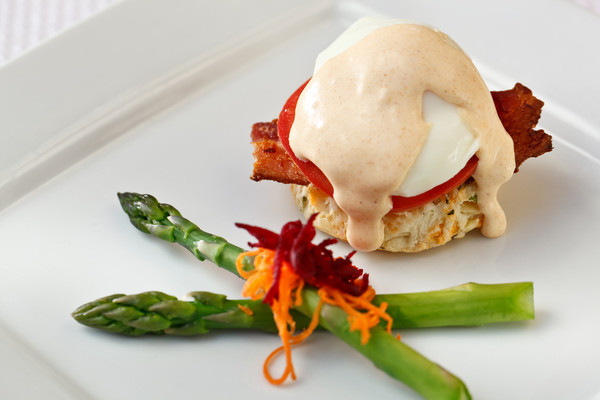 Meanwhile we are at the stove wondering why the eggs were taking so long to poach, I noticed the water was not steaming anymore and suddenly we both became aware that all the lights in the kitchen had gone out as well as the microwave, the coffee pot, the toaster and the stove. We had overloaded the circuit and of course the panic set in big time. Well it was up to me to go out and tell our guests who were waiting patiently for their second course, that breakfast was delayed a bit. I was quite nervous, remember this is all new to me, I had never even worked in a restaurant before, so I walked up to the table where they were all sitting quietly and staring at me, and said "folks, I am sorry but the cook has blown a fuse and it will be a few minutes longer. They all burst out in laughter and well from there on in we realized how much humour can pave the way out of difficult situations. It's worked many times over the past 7 years for us.
Breakfast is still a big deal to us, we now serve as many as 22 in a morning but we have learned to relax and have fun with it. More on breakfasts another day. It's really a never ending topic in this business :)