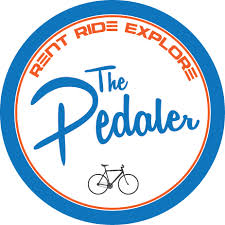 See Victoria on two wheels with a guided bicycle tour from our friends at The Pedaler.
These small group tours offer a different view point than the typical bus tour and combine healthy activity with an eco-friendly spin. Tours range from 2-3 hours and are available for groups of two on up. Check out these current offerings:
The Magical Mystery Tour
Roll along through Victoria's most interesting and artistic neighborhoods. This 2 hour tour has everything you need to experience the present and learn about the past while enjoying a leisurely cycle in our beautiful town. The Pedaler will take you away to our iconic landmarks like historic Chinatown, Craigdarroch Castle, Beacon Hill Park, scenic Dallas Road and introduce you to local favourites Moss Rock, the popular Cook Street Village, and artistic Fernwood. The magical history tour would love to take you along.
Time: Daily at 10:00am and 1:30pm
Cost: $42 per Adult and $38 per Youth accompanied by an Adult
Castles, Hoods & Legends
Victoria is a city of neighbourhoods and this 3 hour bike tour explores the historic and unique neighbourhoods surrounding the downtown. This ride will give you a better appreciation of why Victoria has earned the moniker of Most Liveable City in Canada. An iconic castle, the tallest totem pole in the world, funky neighbourhoods, imposing imposing mansions - this bike tour has it all.
Daily at 10:00 am & 1:30 pm
$59 per person
Beans & Bites
Aaah - the simple pleasures in life: a nice bike ride, great coffee, and delicious baked treats. We end this bike tour with a unique tea tasting.
This ride is a great way to start your day or spend your afternoon. We will take you off the beaten path to our favourite shops.
Time: Daily at 9:00 am & 1:30 pm
Cost: $79 per person
Hoppy Hour (Ian's Favorite!)
It is undeniable that there is something unique about the beer culture of the pacific northwest and Victoria boasts some of the best.
This is not a pub crawl but there will be samples of our finest locally crafted beer available on this bike tour. We can point you in the right direction to find more of your favourite flavours after the ride, or pick up a growler to take home – our guides love to carry your beer purchases.
Time: Daily at 1:30 pm
Cost: $79 per person
To book any of these tours just let us know and we'll hook you up!