Incredible Edibles - Pizza the PrimaStrada way
posted on April 10, 2010 by Ian MacPhee
Those of you who know me are aware of my penchant for good grub. Couple that with my Scottish nature and you know I'm gotta be happy to find good food cheap! Pizzeria Primastrada has been on my radar since fellow innkeepers Dave & Sharon Layzell of Dashwood Manor raved about it last year. I'm not sure what took me so long to get there but it won't take me long to get back.
This is an easy going spot filled with the smell of the wood fired oven and all the good things going on inside. We visited on a Thursday evening about 6:30 and had a short wait but soon the lineup grew. We opted for a seat at the cooking counter and had a great time watching the crew perform.
We started with an antipasti plate at $13 and it was substantial with a great variety of olives. The bread, meats and cheese tided us over while the endless parade of pizzas worked their way down the line.
I enjoyed the Salsiccia Piccante with housemade fennel sausage, tomato, mozzarella, & roasted bell peppers while my daughter chose the Diavola - soppressata salame, tomato, mozzarella, parmigiano & red onion. Both were great but with the appy plate we could have done with one pizza. Oh well - leftovers!
Two pizzas and a big antipasti plate set us back about $40.
I know I'll be recommending this place to our guests this summer.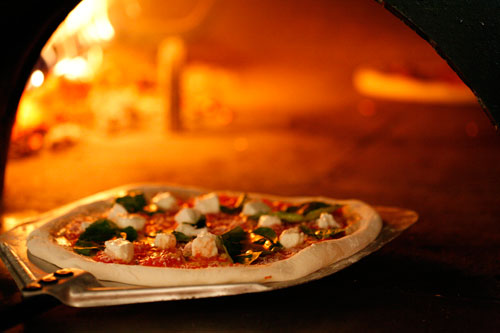 Thanks Pizzeria Primastrada