Fabulous Fernwood
posted on July 11, 2011 by Kara Johancsik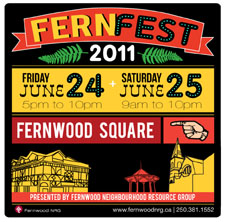 Fabulous, friendly Fernwood hosted its 16th annual neighbourhood festival June 24-26, 2011. But this isn't just your average neighbourhood festival we're talking about. But then, Fernwood isn't your average neighbourhood, either.
Fernwood, which lies north of Fort Street and east of Cook, attracts artists, musicians, and subcultures. It's home to hippies and hula-hoopers; innovators and artisans. It's a tight-knit community with a strong identity, an all-inclusive attitude, and a love for welcoming in visitors and new residents.
And what better way to experience this unique part of Victoria than FernFest?
Fernfest opened on Friday evening with a hair and fashion show in Fernwood square (a pedestrian zone known to locals as simply "the square"). As the night went on, live DJs got everyone—young and old—on their feet dancing. Fire spinners with flaming poi and hula-hoops dazzled the crowds once it got dark, and dancing continued well into the night.
Saturday's all-day event brought pancake breakfasts, hot-dog stands, and beer tents to the square. It was a day full of music, food, friends, and fun. To make the whole thing even more appealing, the events and entertainment were totally free to attend.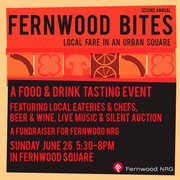 For Fernwood foodies, "Fernwood Bites" happens on the same weekend as FernFest. This event brings fine food and drink from many Fernwood restaurants to the square. Buy a ticket and you can munch and sip till your heart's content.
Even better than the food and drink is the warm-fuzzy feeling you get knowing that ticket proceeds go towards Fernwood NRG, a non-profit resource group that uses locally generated revenue to build infrastructure, support the community, and throw FernFest and Fernwood Bites each year for everyone to enjoy. Now how's that for local sustainable community initiatives?
Well Done Fernwood. Well Done!