Fun Freebie: The Free-B Movie Festival Returns to Victoria!
posted on July 15, 2011 by Kara Johancsik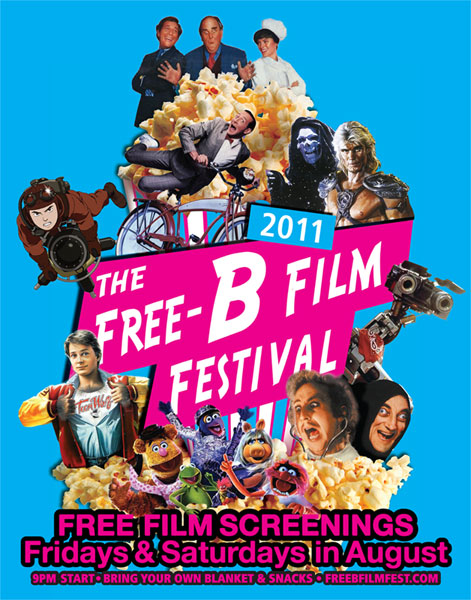 Returning in August to an urban park and city square near you is Victoria's B-Movie Festival! It's free, it's family friendly, and most importantly—it's fun.
To tide us over while we wait for the Victoria Film Festival in February, the B-Movie Festival takes place throughout the month of August. Every Friday and Saturday night starting August 5, the hosts from Victoria Film Festival set up a large inflatable screen in Beacon Hill Park or Centennial Square for families, couples, and friends to come curl up and enjoy fabulous b-list movies under the stars.
The festival starts off on August 5 at Beacon Hill Park with Pee Wee's Big Adventure, a hilarious Tim Burton comedy about Pee Wee Herman's quest to retrieve his stolen bicycle. Next up is Teen Wolf, a Michael J. Fox classic from 1985 in which Michael J. Fox's high-school character discovers that he is, in fact, a werewolf. The following weekend features Muppets From Space showing in Centennial Square on Friday August 12th, and Young Frankenstein screening in Beacon Hill Park on Saturday the 13th. Some of the other films include Steamboys, Masters of the Universe, and Short Circuit.
For the complete lineup, visit http://www.freebfilmfest.com/
To best enjoy these quirky films, bring a blanket, some snacks, and a good sense of fun. Be sure to get there early to get a good spot—in previous years, this festival brought out over 1,600 b-list movie fans!
But if you're staying at Abbeymoore, getting there early won't be a problem. We're only a beautiful half-hour stroll away from Beacon Hill Park, and you get to soak in the quaint neighbourhoods of Rockland and Fairfield on your way. What a perfect way to spend a summer evening!