This just in: Dragons spotted in the Inner Harbour!
posted on July 31, 2011 by Kara Johancsik
About two weeks ago, the Times Colonist reported that Victoria's well-loved Cadborosaurus left the warm waters of Cadboro Bay in favour of the Alaskan coast. But that doesn't mean you won't be able to find any mythical creatures off the shores of Victoria these days. Dragon Boats are racing through the Inner Harbour during Victoria's Dragon Boat Festival on August 12th, 13th, and 14th. The Dragon Boats and their teams aren't as rare as the Cadborosaurus, but the chances of a sighting are much greater—especially when you consider that this fabulous event is free to attend!
Dragon boat racing is a Chinese tradition that originated with the death of Qu Yuan, a famous poet and statesman of fifth-century China. According to the story, the Emperor of China exiled Qu Yuan after his fight against government corruption angered the state officials. Driven mad by his exile, Qu Yuan threw himself into a river to end his own life. The local fishermen raced to the spot to rescue him. Unable to do so, they threw food into the water to keep the fish away from the body.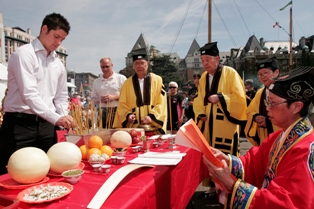 Today, Dragon Boat races are celebrated all over the world and have become a lighthearted tradition. Victoria's Dragon Boat Festival features not only the boat races, which take place from 8:30 am – 4 pm on Saturday and Sunday, but also fabulous entertainment at the stage, a kid's tent, unique merchandise and artisans' wares, traditional Chinese tea ceremonies, and a food court. The Taoist Eye-Dotting Ceremony will take place at 1 pm on Friday to set off the Festival, followed by the Lights of Courage Lantern Celebration to honour those affected by cancer. For a complete schedule of events, click here .