Rifflandia 4: It's big, it's back, and it's better than before!
posted on July 19, 2011 by Kara Johancsik
Even though this festival is only four years old, there's a fresh buzz of excitement in the air over this year's Rifflandia Music Festival. The festival, which brings loads of fantastic musicians of all genres to Victoria every September, is expanding…and it's going to be huge!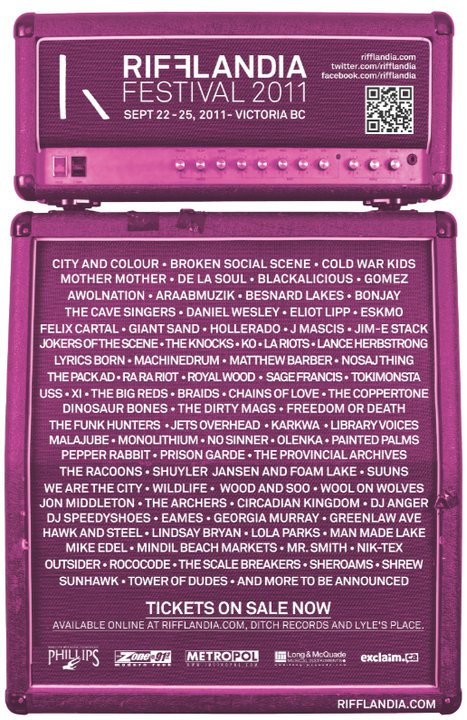 In previous years, a ticket allowed you access to all shows playing in nightclubs and other venues around downtown Victoria. This year, the festival has added an all-ages outdoor daytime venue at Royal Athletic Park. This means there's more tickets for sale, the lineup is bigger, and there's more options for fans. The new venue can only mean good things—it comes with a beer garden and food vendors, so you can enjoy the music as you dance, eat, and drink under Victoria's hot September sun. Ahhhh…
So what's on the lineup this year, you ask? Well, get excited. Acts for Royal Athletic Park include, but are not limited to, Toronto's Broken Social Scene, Vancouver's Mother Mother, and Victoria's Mike Edel. Royal Athletic Park also features City and Colour, Jets Overhead, Awolnation, and Gomez. The festivities will continue well into the night as artists like Cave Singers, J Mascis, and Machinedrum capture crowds at the many nighttime venues. Click here for the full lineup!
Haven't heard of any of the artists? Don't sweat it. Part of the fun of Rifflandia is discovering and supporting up-and-coming artists. You'll be glad you came when the small act you saw at Sugar while waiting for the headliner turns into the next big thing.
If you're buying a ticket, keep in mind that you can choose whether to buy a ticket for the nighttime venues, the daytime venue, or both. You can view ticketing options and purchase a wristband online here.
See you there!