The Victoria Symphony Splash is back with…well, a splash!
posted on July 25, 2011 by Kara Johancsik
You've probably heard of a composer called Tchaikovsky. Maybe you've even heard of a little tune he wrote that he called the 1812 Overture. But have you heard it played live from a floating stage at sunset in Victoria's scenic Inner Harbour, complete with cannons, bells, and fireworks?
If you haven't, this event is for you. Heck, even if you've been before, the Victoria Symphony Splash is definitely worth another visit.
Victoria Symphony Splash features a selection of classical and popular music played by orchestras, ensembles, and talented soloists. It's one of the biggest symphony events in North America, and it attracts up to 40,000 symphony-lovers each year.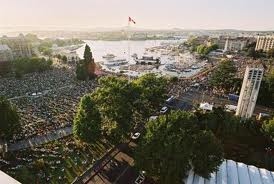 This year, Splash will start off at 1pm with the Music Corner Ensemble and will continue throughout the day with different artists and ensembles. As the crowds fill the Legislature lawns and Inner Harbour, Maestra Tania Miller and the Victoria Symphony will conclude the event at 7:30 pm with the grand finale—a performance of the 1812 Overture with all the bells and whistles (literally). For the complete concert program, click here
Admission is by donation, but a minimum $5 donation gets you a Victoria Symphony pin so you can show your support. Make sure to get to the Inner Harbour early to set up a good spot on the Legislature lawn, and bring blankets and lawn chairs to claim your turf. But if you'd rather claim surf than turf, you can do that too. Paddle your canoe or kayak to the Inner Harbour and watch the performances and fireworks from there.
For more information, click here