Belly up to the "Z" Bar for an amazing feast...
posted on October 15, 2011 by Ian MacPhee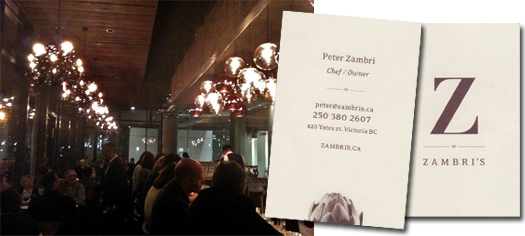 Before I moved to to this beautiful town I asked my favourite restauranteur, Vikram Vij, where he would eat in Victoria. Well he didn't hesitate to say "Zambri's" and as I would soon learn there are plenty of reasons why. Jo & Peter Zambri, along with their sophisticated sommelier Francis, have assembled all the ingredients for a restaurant masterpiece. This is Italian cuisine at the top of the food chain and with their recent move to the Atrium the atmosphere is as spectacular as the food.
While a visit is delightful anytime I was pleased to hear about the new opportunity to enjoy a more intimate, inventive foodie experience on Wednesdays.
Starting Wednesday October 5th (and every Wednesday thereafter), you can now reserve a seat to enjoy the Chef's tasting menu at the bar:
5 course meal, $75 per person,
($35 wine pairing option available)*
For more Info & reservations email yann@zambris.ca
I can't wait to indulge .....
Salut!
* Does not include tax or gratuities