Go Royals Go! See the Victoria Royals play on home ice next time you're in town
posted on November 14, 2011 by Kara Johancsik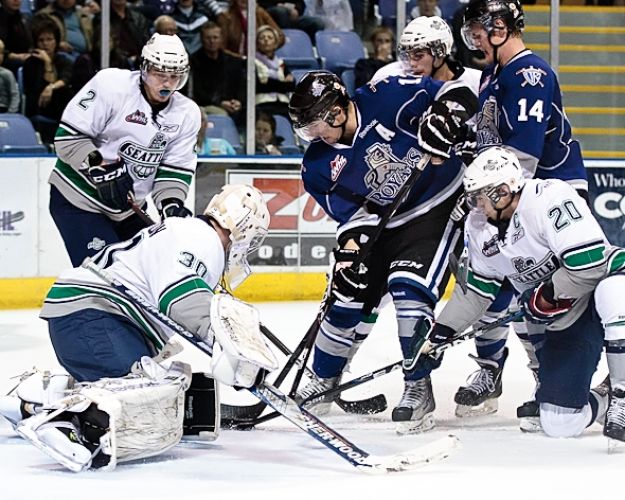 Our closest NHL team may be on the mainland, but that doesn't mean we're short on good hockey here in Victoria. Thanks to the Victoria Royals and the WHL, you can catch great hockey games by the Victoria Royals from September through March at the Save on Foods Memorial Centre.
For our overseas and out-of-country visitors, seeing a Royals game is a great way to see Canada's favourite game first-hand. WHL games have all the professional-grade players of an NHL game, without the expensive tickets or commercial breaks. Watch a live hockey game and you'll quickly realize why Canadians are passionate about this fast-paced sport.
If you're already a hockey fan, these games are perfect way to enjoy hockey at its stripped-down, no-frills finest. Unlike NHL games, there's no overpriced tickets or overpaid players. Instead, it's a community event for fans and players with raw passion for the game. It's also a great place to spot Canada's best up-and-coming hockey players at WHL games. Who knows, you might end up seeing the next Jarome Iginla or Sidney Crosby on the ice!
The Victoria Royals frequently play against WHL teams from Calgary, Vancouver, Kamloops, Kelowna, Seattle, Portland, and Prince George, so you might even get the chance to cheer for your team from back home. There's nothing wrong with a bit of friendly competition, although we Royals fans won't complain if you forget your hometown loyalty for a night and cheer for Victoria instead. When in Rome, right?
Tickets usually cost between $12 and $25, and are available for purchase online or at the Save on Foods Memorial Centre box office. You can check out the Royals' schedule here to see which games take place during your stay.