We wish you a sparkly Christmas!
posted on November 26, 2011 by Ian MacPhee
There's nothing quite like wandering through Victoria's light-adorned neighbourhoods during Christmastime. Grab a hot chocolate and the mittened hand of your special someone and enjoy these gorgeous displays!
Butchart Gardens Magic of Christmas
Butchart Gardens is a must-see for Victoria visitors at any time of year, but the garden grows especially magical during Christmas. Tens of thousands of lights adorn the trees and hedges of the gardens, and light up wreathes, hollies, mistletoe, and Twelve Days of Christmas displays. You'll also find caroling and Christmas performances at the Piazza, and public outdoor skating at the rink every hour. The Christmas lights display lasts from December 1 to January 6. Visit Butchart Gardens' website to find out more!
Centennial Square Lights and Skating
Every year, the City of Victoria works hard to string Christmas lights through the giant Sequoia tree in Centennial Square, and the effect is magical. This year, you can enjoy the lights display while gliding around on Centennial Square's new outdoor skating rink! The rink will open to the public on December 3 and remain open until January 2. The cost to skate is only $2, and skate rentals will be available on site. Don't forget your toonies! For more information about this and other fun holiday events in Centennial Square, click here.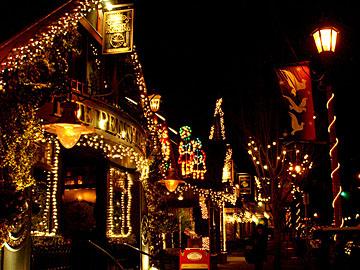 Oak Bay Village
When the people of Oak Bay get ready for Christmas, they don't hold back. Oak Bay Village will be elaborately decorated with Christmas lights and decorations for the entire month of December. It's the perfect place to spend an evening or afternoon exploring unique boutiques before heading to a cozy bistro or English pub for dinner.
If you are in town on Sunday, November 27 don't miss the "Oak Bay Light Up". From 3 PM, Oak Bay Village comes alive with light, food and music as Light Up celebrations kick off the 11th annual Oak Bay Christmas Festival. This years entertainment features fiddler, trumpeter Daniel Lapp, folk musician Oliver Swain and Celtic guitarist Quinn Bachand who will be joined by the 30 member youth BC Fiddle Orchestra and the 60 member Joy of Life Choir to present an Old Time Appalachian Christmas. The lights come on a 5PM but the celebrations continue through the evening.
The Inner Harbour, Downtown, and the Parliament Buildings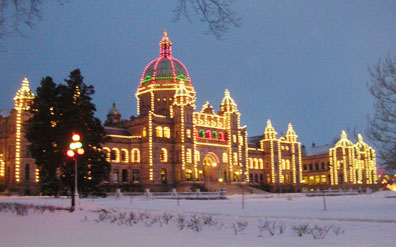 You've probably seen postcards and photographs of B.C.'s parliament buildings lit up at night. Although you can see the lit-up parliament buildings all year round, the Inner Harbour and the parliament buildings gets extra trimmings and trappings at Christmastime. Stroll down Government Street to enjoy the decor and stop along the harbour to snap a photograph to send home. Don't forget to stop at the Empress Hotel to check out the Festival of Trees, an annual B.C. Children's Foundation fundraiser that transforms the Empress Hotel into a Christmas wonderland full of elaborately decorated Christmas trees.
Work your way around the inner harbour and visit the Hotel Grand Pacific's Teddy Bear Tea Party where you can view an amazing Teddy Bear collection in an assortment of inventive themes. Next stop is the Inn at Laurel Point where you will feast your eyes and nose on the creative inspirations constructed from gingerbread. More than houses, they are sculptures and unique works of art created by local chefs. A spirit-rousing experience, the gingerbread houses will leave a lasting impression, and your mouth watering! Vote for your favourite and make a donation to Habitat for Humanity.