Gallop along the Galloping Goose Trail! - Bikeable Victoria Part two
posted on March 12, 2012 by Kara Johancsik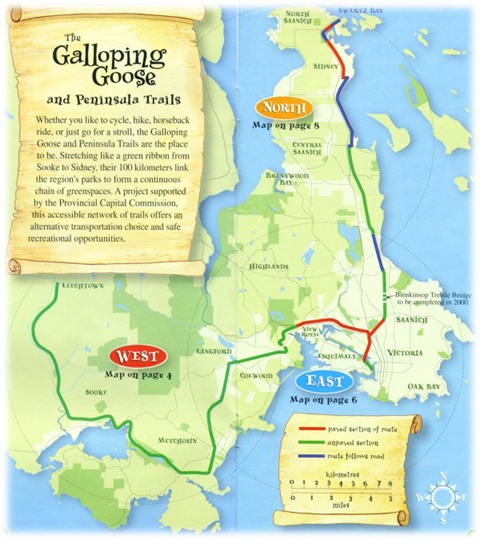 From Douglas fir forests to farmland, fern gullies to urban neighbourhoods, the Galloping Goose Trail crosses some of southern Vancouver Island's best landscapes. The Galloping Goose, which follows an old railway line, is reputed to be one of Canada's most picturesque trail systems. Although many locals use the trail to commute from the suburbs to downtown each day, it's also the perfect place for a leisurely bike ride.
You can access the trail from many different points, but if you're staying at Abbeymoore, take your bike downtown and cross the Johnson Street Bridge for the closest entrance to the trail. From there, you can either head East towards Sooke, West towards Colwood, or North to join up with the Lochside Trail and head to Sidney.
There's so much to see and do along the way that you could easily bike different parts of the trail on different days. Spend one day biking the trail towards Sooke to enjoy the views of Sooke Basin, perhaps stopping along the way at Sooke Potholes or Matheson Lake for a swim. Another afternoon could take you to Esquimalt to see the Selkirk Trestle. Or, plan a day trip and bike north towards Sidney on the Lochside Trail. Don't forget to stop in Sidney and re-fuel at one of their famous fish and chips restaurants! If you choose, you can continue on your bike from Sidney all the way to Shwartz Bay, where you and your bike can board the ferry without worry of lineups or the extra vehicle costs.
Check out the sites along the Galloping Goose here and be sure to have a look at a more detailed biking map here before you go.