Don't miss this! Victoria's JazzFest 2012!
posted on April 16, 2012 by Kara Johancsik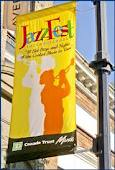 Ahh JazzFest. For ten days in June, jazz fills the air above Centennial Square during the day, and audiences fill theatres and clubs at night. Imagine enjoying live jazz in the sunshine in the heart of downtown Victoria for an afternoon, then grabbing a bite to eat before heading to a venue to see legendary jazz performers like Wayne Shorter or Dianne Reeves.
That's what Victoria's JazzFest is all about—celebrating the best of modern jazz in a beautiful city at the beginning of summer. You can enjoy JazzFest many ways: by seeing a free show, attending a workshop, or by purchasing tickets to a show at a club, restaurant or auditorium.
This year's headliners include the Wayne Shorter Quartet, Dianne Reeves, Janelle Monáe, the Preservation Hall Jazz Band, Robert Randolph and the Family Band, George Benson and more.


Wayne Shorter is easily one of jazz's greatest composers, and his small quartet that's performing on June 27 has been referred to as "the best small group in jazz." Last year's performance by Trombone Shorty & Orlean's Avenue was such a hit that JazzFest is bringing the group back. This funky innovative performance that fuses jazz with modern funk and rock beats will have you dancing in your seat. And don't miss the Preservation Hall Jazz Band, which preserves toe-tapping traditional New Orleans jazz.
But half the fun of a music festival is discovering new artists, to be sure to check out some of the smaller shows playing at restaurants and bars around Victoria, or the free shows that will take place at Centennial Square. New artists and additions to the lineup are released all the time, so visit Victoria JazzFest website to learn more details.
Tickets to some of the bigger shows are on sale early, so grab your tickets now! See where you can buy tickets here. Fabulous accommodation in Victoria is available at Abbeymoore Manor.