Canada Day 2012: Victoria's Celebration!
posted on June 20, 2012 by Kara Johancsik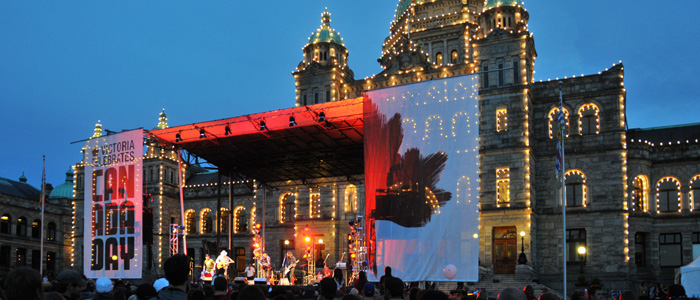 Ah, Victoria. Quiet, sleepy seaside city, right? Not on Canada Day! Victoria knows how to celebrate, especially on the Canada Day long weekend at the beginning of July. From June 30th - July 1st, the entire city throws a big party for Canada Day. Come watch as the city gets decked out in its best ßpatriotic party gear!
This year's weekend-long celebration features a number of family-friendly free events around town. On June 30th at 11:00am, the party starts at Ship Point along the Inner Harbour. The series of live performances kicks off at 12:00, and includes performances by The Tim O'Brien Family, Turnpike Bandits, Lindsay Brian, Skylab Sounds, the June Fiasco, and Gold & Youth.

And that's just the beginning! The city will transform on Canada Day: streets will close, hundreds of people clad in red and white will flood downtown, and the lawn of the Legislature building will transform into a stage. Both the Ship Point stage and the lawn of the Legislature will provide live entertainment well into the evening. The lawn of the legislature will begin performances at 3pm, starting with The Archers. Other performances that afternoon will include Ocean Rain, Norman Foote, and Canadian Aboriginal Music Award winner Terri-Lynn Williams-Davidson.
The Ship Point stage will begin entertainment at 11. For Canada Day, their lineup includes Chris Ho, Salsa Caliente, The Crooked Brothers, Dan Kosub, and more. Both stages will release their headliners closer to the date, so keep checking the site for updates!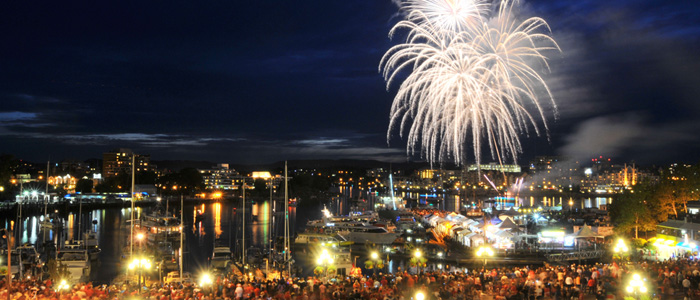 Make sure you stick around downtown for the fireworks at 10:20. The best place to see the fireworks is from the Legislature lawn, or from anywhere along the Inner Harbour. Here's a hint: show up early to save yourself a spot!
See you there!