Shop Local: Fab Fort Street!
posted on June 25, 2012 by Kara Johancsik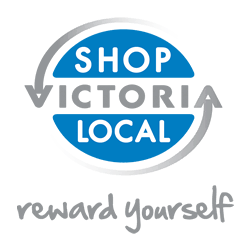 The strip of Fort Street between Blanshard and Quadra is jam-packed with eclectic local shops and Victoria's biggest Antique Row. Within the space of one block, you'll find quaint storefronts displaying everything from guitars and rare antiques, to specialty teas and deli meats. Whether you're looking for a unique antiques or a memorable lunch, you'll find it on fabulous Fort Street. Plus, it's only a 20-minute walk from Abbeymoore! Here are a few of our favourite stops.
Guitars on Fort
This unique guitar stores is one of the best of its kind on Vancouver Island. It collects and consigns unique vintage guitars, but you'll also be able to find classic styles and well-known brands such as Gibson and Fender. The store's knowledgeable staff and warm atmosphere make Guitars on Fort a pleasure to shop in. Even if you don't play, it's worth a stop!
Choux Choux Charcuterie
Remember your vacation in France, when you visited family-owned delicatessens and chose the best deli delights to make gourmet French picnic? Recreate a European vacation with a visit to Choux Choux Charcuterie, a French-inspired delicatessen specializing in paté, sausages, and cured meats.
Shepard Books
This quaint bookstore is like a comfy reading room. Walk in and you'll want to pluck a book off the shelf, settle down in a chair, and read away the afternoon. Shepard Books sells quality used books, so it's the perfect place to pick up a copy for cheap, or to find a rare out-of-print edition.
Special Teas
Special Teas specializes in quality loose-leaf tea. Unlike many tea stores, they blend the teas themselves, so the blend is always fresh and always perfect. Purchase the tea in bulk to prepare at home, or settle down with a pot near the window and relax.
Chronicals of Crime
There's no "mystery" about what you'll find in this amazing bookstore! New release, hard to find, out of print, used, and rare books in the crime/mystery genre are all here.
And of course, you can't walk down Fort Street without wandering through the many antique stores. Victoria's rich heritage makes it one of BC's best antique spots, so shop till you drop and see what you find!