Veg out!
posted on April 30, 2012 by Kara Johancsik
We may have a reputation for being tree-hugging, organic-farming, vegetarian-eating hippies here on Vancouver Island, but humour us for a second. Vegetarian food can be pretty darn tasty. Don't believes us? Set aside your steak knives for a night and head to one of these great stops. When in Rome!

Rebar Modern Food
50 Bastion Square
250-361-9223
Mention "Rebar" to any local, and they'll tell you exactly where it is, when they last ate there, and which variety of veggie burger or fresh stir fry on the menu is their favourite. They'll probably also point out the Rebar cookbook they have in their own kitchen. The restaurant is easily a local legend, with food and atmosphere that you'll remember for long after. It's relaxed and colourful, with friendly service and a mom's-kitchen ambience. But don't let that fool you—the place gets busy! Make a reservation to make sure you get a seat, especially on weekend nights.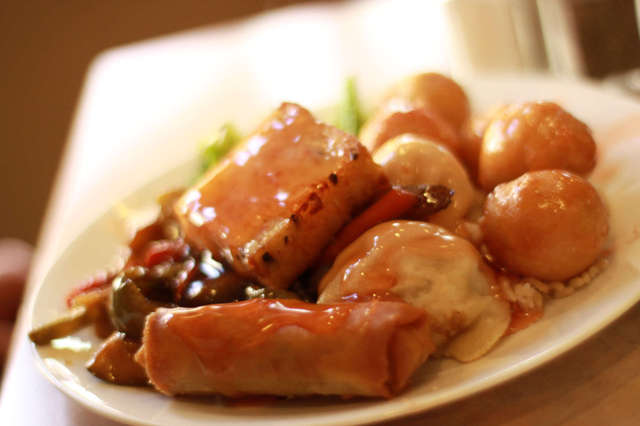 Lotus Pond
617 Johnson Street
250-380-9293
This hidden gem is easily one of the best Chinese restaurants in the city. Don't be fooled by its hole-in-the-wall appearance, the Lotus Pond serves up fresh, healthy, meat-free Chinese food at a low price. All of its dishes are vegetarian friendly, and many are vegan, too. It certainly isn't fancy, but the fresh, delicious, affordable MSG-free Chinese food can't be passed up.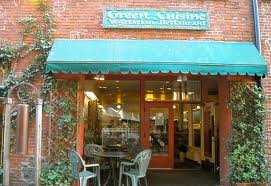 Green Cuisine
560 Johnson St Market Square
250-385-1809
Mmm-mm, Green Cuisine. Their food is wholesome, entirely vegetarian, mostly vegan, and often gluten-free too. But this isn't your average restaurant: it's a cafeteria-style buffet with all food sold by weight. That means you can usually get a heaping plate of healthy vegetarian food for around $10. Now how's that for bang for your buck?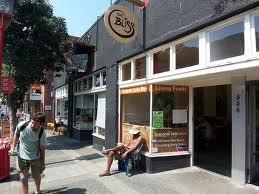 Café Bliss
556 Pandora Ave
250-590-5733
The food at this café packs a punch. Their entire selection of shakes, juices, soups, chocolates, treats, pizza, cracker plates and more is made from 100% organic raw plant ingredients that they select using local and seasonal availability. Oh, and it's all organic, all vegetarian, and all wheat and gluten-free. But don't for a minute think that means they sacrifice taste—Aphrodite Pizza with sundried tomato pesto, or Gado Gado Bowl with coconut brown rice, broccoli, peanut sauce and cilantro, anyone?
So with all these great vegeterian food options in lil' old Victoria the only thing you won't have is time to Veg Out!