Victoria's 13th annual Ska Festival scheduled for July 10-14, 2012!
posted on May 11, 2012 by Kara Johancsik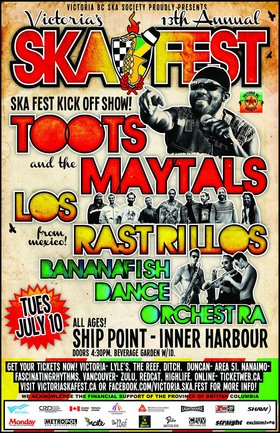 Did you know that Victoria's Ska Festival is the largest and longest-running festival of its kind in North America? The Ska scene in Victoria has been going to strong for over a decade, and the Ska Festival that takes place each summer in Victoria celebrates the great music, relaxed vibes, strong community, and vibrant culture of the ska scene.
This year's Ska Festival is the 13th annual edition of the event. The Festival brings the best of local, regional, and international ska music and its related genres to the streets, venues, and harbours of Victoria. This year's festival starts with the kickoff event featuring Toots And the Maytals, Los Rastrillos and Bananafish Dance Orchestra at the Ship Point in the Inner Harbour. Tickets to the event are $32 for early birds, or $35 regular price, so get your tickets early!
The rest of the festival's lineup includes Juno award-nominated DJ and composer Adam Shaikh, well-loved locals Tequila Mockingbird, returning group The Pietasters, all-Maori band Katchafire from New Zealand, Vancouver ska kings Los Furios, and more. Most events are ticketed and take place at an outdoor venue or at Club 9One9, but there are free events almost every day along the Inner Harbour throughout the week. Find out more about the festival's schedule and lineup here!
Tickets for individual shows can be purchased at select locations in Vancouver and Victoria. Head to The Reef, Ditch Records, or Lyle's Place in Victoria, or to Zulu Records, High Life Records, Redcat Records, or Scratch Records in Vancouver. You can purchase festival passes to Ska Fest can be purchased through ticketweb online here.
So get your skanking shoes on, and we'll see you there!
For the record, skanking is the style of dance done to ska, reggae, funk, and other genres. Here's a video to get you started!
{youtube PY4QAK_a0QYß}