Don't get left in the dust - head to the Victoria Chalk Festival!
posted on September 6, 2012 by Kara Johancsik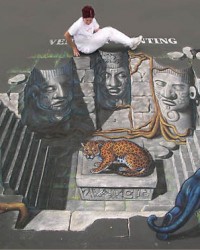 Want to have a chalking good time? Then head to the Victoria International Chalk Festival from September 12 -16! This fun festival is in its first year in Victoria, and gathers the best international and local chalk artists and puts their work on display. During the week, the city of Victoria will close Government Street to traffic and let the chalk artists have their way with the pavement.
The festival will start off on the 12th with the work of internationally renowned chalk artist Tracy Lee Stum, who will begin a chalk art creation that will take five days to complete. Up to 28ft (8m) in diameter, the finished product will appear in 3D. Keep visiting her spot over the following five days, and watch as the piece grows in detail and complexity.
Meanwhile, local and international artists will take two days to work their wonders on the streets of downtown Victoria. Some artists will create pieces to tribute Victoria's 150th anniversary; others will work from their own portfolios. One walk down Government Street, and you'll appreciate chalk art in a completely different light!
Government Street will close during this event, so you can take your time wandering down the street in a pedestrian-only zone, admiring the artwork and chatting with the artists. A "Kids Chalkers" area will be roped off for the little ones wanting to try their hand at chalk art.
It all chalks up to another weekend in Victoria well spent!