Victoria, je t'aime!
posted on March 1, 2012 by Kara Johancsik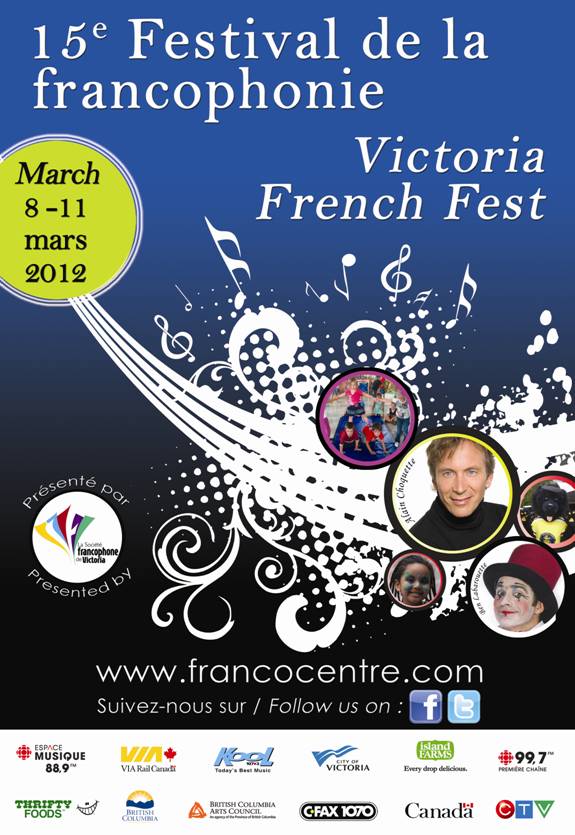 When we think of Victoria, we often think of the city's British roots: the old-fashioned English fish 'n' chips shops, the Victorian-era colonial architecture, and the tradition of high tea at noon. But for a week each March, the local francophonie come out in full force to celebrate and share French culture and cuisine! Come to the annual Victoria French Fest to taste French food, enjoy live music, witness the work of a magician, and practiquer votre francais while you're at it.
This year's festival features two main ticketed entertainment events, plus many more free events for the whole family to enjoy. On Friday March 9, renowned French magician Alain Choquette will stun crowds at the Royal McPherson Theatre with his dazzling magic act. Tickets are available online or at the Royal McPherson Theatre box office. Dream Circus, or transporteurs de rêves, will take place on Saturday, March 10, also at the Royal McPherson Theatre. The show is a completely new circus formula designed and performed by Cirque de Soleil hero Ben Labarouette that will leave you amazed! Tickets for this event can also be purchased at the Royal McPherson Theatre box office.
Head to Centennial Square between noon and 4pm on Saturday March 10 and Sunday March 11, and you'll find music, food, vendors, entertainers, and more at the festival's Family Days at Centennial Square. Booths and vendors in the square will offer French food and fun to francophones and francophiles alike. For both days on the weekend, French music will play from the Radio-Canada Stage at Centennial Square. This year's lineup includes world beats from Jou Tou, latin jazz blends from Sarah & ses homes, South Pacific music from No Issues, and celtic bluegrass from Fiddlin' Frenzy.
Other events include the Sugar Shack Brunch on Sunday, which offers traditional Quebecois maple products. Tickets are $15 for non-members, and can be purchased by calling 250-388-7350. To see the complete program for the festival, click here!