Artists out and about at the TD Moss Street Paint-in!
posted on May 25, 2012 by Kara Johancsik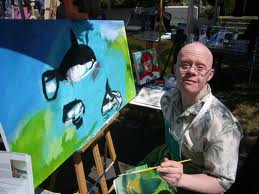 Summer in Fairfield, Victoria is all about long walks along Dallas Road, visits to the beach, dining outdoors, and walking down Moss Street during the Moss Street Paint-In to see all the work by local artists.
This year's Paint-In is the event's 25th anniversary. It's an annual community outreach event that invites over 150 professional and emerging artists from the area to display their work along beautiful Moss Street. What's more, it's totally free to attend.
On July 21, 2012, Moss Street will become one big art studio as artists move outside to display and produce their artwork. It's a great way to pick up new techniques, or pick up a new piece of artwork for your home. Although you can see artists anywhere along Moss Street from Fort to Dallas Road, we recommend starting at Dallas Road and walking up towards Fort. That way, you'll finish at the Victoria Art Gallery, where you'll find live music by local Latin band Kumbia, dancing, and a food and beverage garden. It's also a great opportunity to check out the Victoria Art Gallery, which hosts an open house between 10am and 6pm on the day.
You could easily spend an entire afternoon or evening checking out the artwork and enjoying the lively atmosphere. So once you've had your fill of beautiful artwork, great music and dancing, rest easy knowing it's only a 10-minute walk back to Abbeymoore!
Find out more about the 2012 Moss Street Paint In here!