Tour-riffic Victoria Part 3: Get your ghoul on!
posted on October 7, 2012 by Kara Johncsik
The seasons are changing here in Victoria! Fog rolls through town in the mornings, leaves turn bright colours and spiral off the trees, and winter-ish winds start blowing. Combined with Victoria's storied history and intricate 19th-century architecture, the city evokes a certain spooky atmosphere at this time of year! It's only fitting, considering that Victoria is the most haunted city in British Columbia. So while you're visiting the city this October, hop on a tour to hear the fascinating fables of our local spirits, ghouls, and ghosts!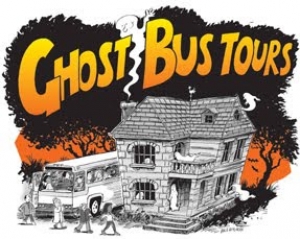 Discover the Past Tours offers special Ghost Bus Tours throughout the month of October on the 20th, 26th, 27th, and 30th, 2012. These special tours will take you to all of Victoria's haunted hotspots to receive knowledgeable interpretation by local ghost expert John Adams. In order to join a bus tour, you need to reserve a spot in advance. Call 250.384.6698, or send them an email to book a tour!
St. Ann's Academy, the oldest boarding school in Western Canada, has been home to hauntings for over a century. Throughout the years, strange things have happened between its walls. Former students and staff told of strange voices echoing through the corridors, and shadowy figures disappearing behind closed doors. Hear some of the spookier stories on a nighttime walking tour on October 19th, 20th, 26th or 27th at 7pm. Tours cost $12 for adults or $10 for seniors and students. Book in advance by calling 250.953.8829 or sending an email request and be sure to bring a jacket—these tours run in rain or shine!
Victoria's Chinatown is the oldest of its kind in Canada, and its surrounding area has seen its fair share of pundits, beheadings, gamblers, and murderers. People didn't always leave when their bodies did, and can be found today haunting old buildings and dark alleyways. See if you can spot one yourself on a walking tour of downtown Victoria! These Ghostly Walks run nightly from May 1st to October 31st, and on weekends for the rest of the year. You can book tickets online or visit the Victoria Tourist Information Centre downtown for more information.
Can't get enough? More special events and tours are being offered as part of the Ghosts of Victoria Festival on October 17th to October 31st. Visit spooky spots such as Ross Bay Cemetery, Craigdarroch Castle, Galey Farms and the Maritime Museum for tours, scary movies, and more ghostly fun. Check out the site for details!