You're invited to the Travel Gay Canada Tourism Conference Oct 11th – 12th in Victoria, BC!
posted on October 1, 2012 by Kara Johancsik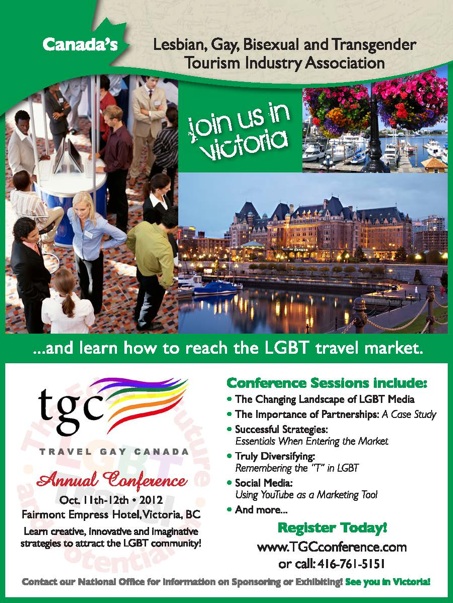 Travel Gay Canada brings their 3rd annual conference to Victoria this year on the weekend of October 11th – 12th, 2012. This fun event will bring tourism and hospitality professionals from across the country to learn about and discuss gay travel and the benefits of marketing businesses towards the LGBT (Lesbian, Gay, Bisexual, and Transgendered) community. This conference offers something for everyone: whether you work in marketing, tourism, or simply on curious about how to open your business to the LGBT market, you'll find answers and ideas throughout the weekend.
The conference kicks off on October 11th with a seminar defining the LGBT community and explaining how businesses can benefit from pursuing their market. Then you'll head off on a sightseeing tour of the best attractions of Victoria before heading to the opening reception at the Fairmont Empress Hotel. The rest of the weekend will be packed with experts from the industry offering suggestions and ideas on how you can open your business to the LGBT community using social media, business partnerships, marketing strategies, and positive guest relations. You'll walk away at the end of the weekend with a stack of new ideas on how to welcome this community to your travel region or business. Take a look at the conference's schedule before you go and plan to attend seminars that will best benefit you!
To attend the conference, you simply need to sign up, pay, and pick a place to stay! Register and pay for the conference online, then consider Abbeymoore for your accommodation! Abbeymoore Manor and Victoria's Historic Inns are proud partners of Travel Gay Canada. We're excited to be an official accommodation option for the conference. Who knows, you may end up connecting with other conference attendees and discussing business strategies over one of our freshly baked scones at breakfast!