Give us one more day and explore the rock pools at Sooke Potholes Regional Park!
posted on December 7, 2012 by Kara Johancsik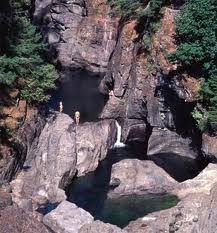 Here in Canada, we say we have two seasons: winter, and road repair. But the potholes at Sooke Potholes Regional Parkhave nothing to do with the toll that the seasons take on our roadways. They're fascinating geological formations at the rockbed of the Sooke River. The Sooke River runs from Sooke Lake to Sooke Basin, and reaches a narrow canyon in this particular spot at Sooke Potholes Regional Park. The fast-running water erodes the rock and carves it into deep crevasses—hence, potholes!It's hard to envision these unique geological formations until you see them for yourself. Clear blue water pours from the river through crevasses and waterfalls, and gathers in deep rock pools. It's a rare sight, and you'll find it easy to understand why this area has been sacred to the T'Sou-ke First Nation for centuries.
If you love a good dip in fresh water, there are few better places to pack a picnic and go for a swim on a hot summer's day. The rock pools are deep enough for cliff jumping, and calm enough for a leisurely dip. The water may be cool, but the sun-baked rocks on the riverbank will warm you up as soon as you get out.
Although the Sooke Potholes are busiest during the summer, they're well worth a visit at any time of year. The Sooke River is the second-largest river in southern Vancouver Island, which makes it home to a rich salmon run each fall. Keep your eyes open for salmon in the streams or eagles up above during October and early November during the salmon run, and take advantage of park's excellent trail system during any season!
The Sooke Potholes are an easy 30- to 60-minute drive from Victoria. For directions and more information about the potholes, click here!