On the first day of Christmas, head to the Butchart Gardens!
posted on November 1, 2013 by Kara Johancsik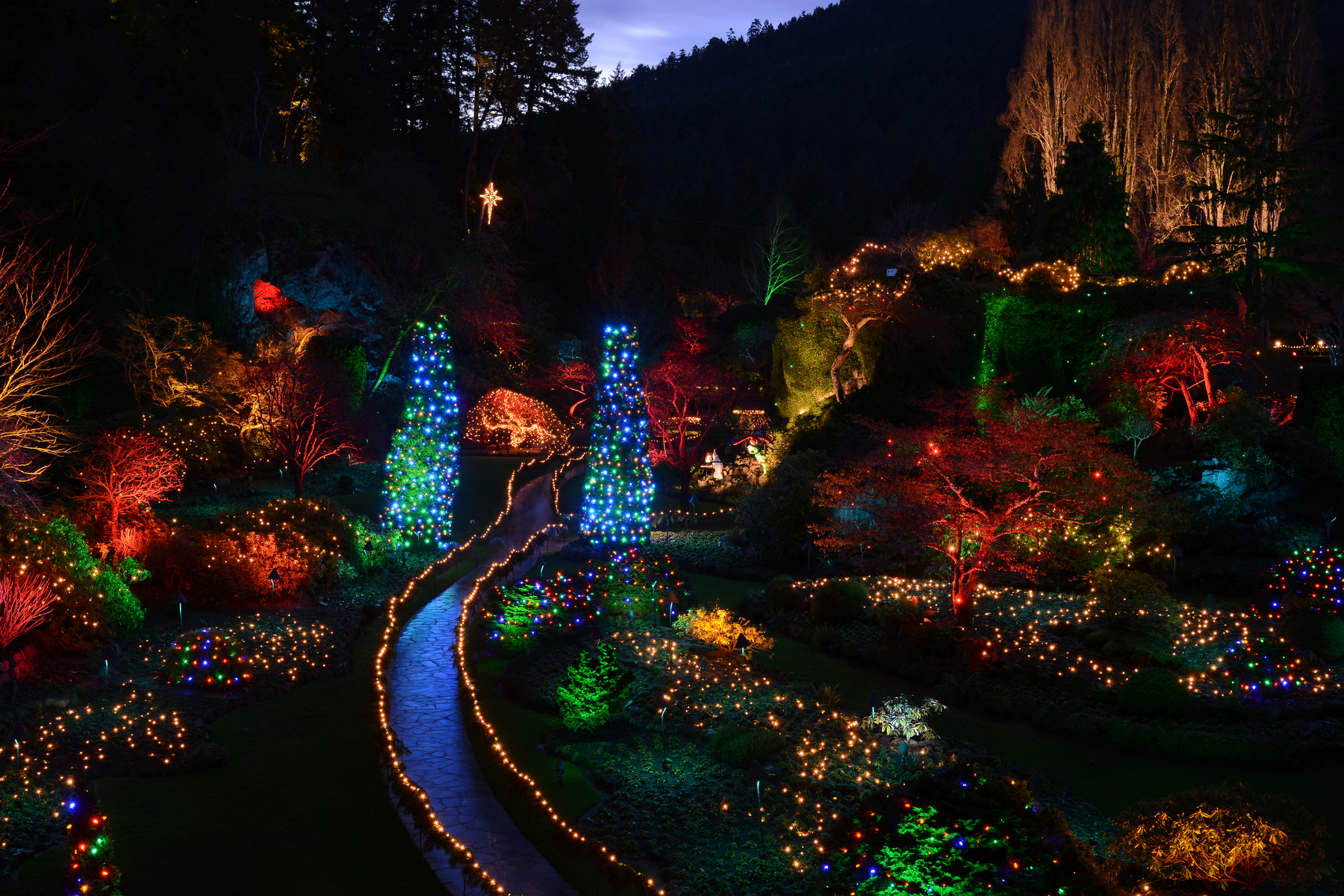 The Butchart Gardens is magical at any time of year. The historic gardens feature some of the most beautiful landscaping in North America, with winding pathways, trickling fountains, rare plants, and sculpted trees that open to reveal a stunning view of the Daphne Islet waters. But at Christmastime, the Garden sparkles with thousands of lights, carolers sing from stages, and skaters glide around the rink surrounded by Christmas lights. The effect is simply dazzling!
The Butchart Gardens' Christmas display will run from December 1st through to January 6th. The Gardens' main feature at this time of year is the 12 Days of Christmas displays tucked throughout the gardens. Each verse of the 12 Days of Christmas song has a visual representation in the Gardens, created out of hundreds of Christmas lights. As you wander through the paths, you'll find twinkling turtledoves, swimming swans, dancing ladies, and golden rings. You might even hear other guests singing verses of the song as they go!
For more Christmas music, gather at the centre of the gardens, where carolers and musicians will play Christmas tunes by request. Afterwards, rent some skates and glide around the skating rink, then head to the coffee shop and curl in front of the fire with a hot chocolate to warm up. However you choose to spend your time, you'll walk away full of Christmas joy!
Abbeymoore offers Butchart Gardens tickets to their guests, and you can save on a Butchart Gardens visit and on tickets to other Victoria Christmas attractions as part of our Olde Fashioned Christmas package. Now how's that for an early Christmas present?
Don't forget to wear a hat and gloves when you go! We may have warmer-than-average temperatures here on the island, but December winds off the water can be chilly.
For more information about the Butchart Gardens' Christmas display, visit their website!