Tea-riffic Options for High Tea!
posted on December 14, 2012 by Kara Johancsik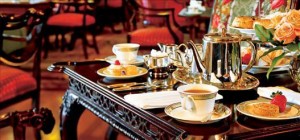 Fairmont Empress Hotel - High tea has been a tradition of the Fairmont Empress hotel for over a century. A great tradition of both the hotel and of Victoria's British roots, high tea at the Empress is nothing short of a ritual. High Tea starts at 12pm daily and finishes with the last seating is at 3:45pm. From May to September, you can also attend an evening tea service on Thursday, Friday, Saturday, and Monday evenings. Prices range from $48.95 to $59.95 depending on the season, and
The Butchart Gardens – Butchart Gardens serves Afternoon Tea throughout the spring and summer months and High Tea during the winter months. Their elegant old-fashioned dining room overlooks spectacular views of the gardens. During Afternoon Tea, you'll enjoy homemade sweets and traditional tea sandwiches, and the High Tea will tempt you with warm delicacies such as traditional Cornish pastries, mushroom vol-au-vent, and roasted vegetable quiche. The cost for tea at Butchart Gardens is in addition to admission to the Gardens. Ask your innkeeper about discounted admission to Butchart Gardens for Abbeymoore guests!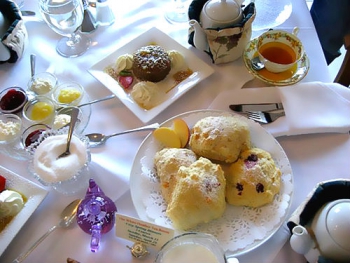 The White Heather Tea Room - The "Locals" Tea can be found in Oak bay at this amazing spot where everything from the scones to the preserves is made in house. Enjoy a "Wee" Tea, "Not so Wee" Tea or the "Great Big Muckle for Two" from $17 - $25 per person. Closed Sunday & Monday. Reservations highly recommended (250) 595-8020.
Point Ellice House – This original Victorian-era home that overlooks the scenic Gorge waterways is where "locals" go to enjoy afternoon tea. Hop on a Harbour Ferry in the Inner Harbour in front of the Empress Hotel and get dropped off on the Point Ellice House's deck. Take a tour and then sit back and enjoy tea on the deck for only $22 per person. Reservations are recommended.
The Oak Bay Beach Hotel – Enjoy the Oak Bay Beach Hotel's version of this English tradition in their spacious conservatory. Taste custom-blended loose-leaf tea, homemade preserves, a wide selection of cakes, scones, tarts, and more. The tea, which ranges from traditional English breakfast to Earl Grey Rooibos and Health & Well-Being Green Tea, is served in authentic Royal Doulton China. The cost is $49.95 per person during the summer months, and $37.95 during the winter. Call 250.598.4556 to reserve your spots in advance.