Tour Victoria on the Tour de Victoria! Bikeable Victoria Part 3
posted on April 2, 2012 by Kara Johancsik

Professional Canadian cyclist Ryder Hesjedal was born in Victoria, BC. He knew that cycling was part of Victoria's lifestyle, and wanted to encourage the sport to grow. So last year, Ryder and retired cyclist and former Olympian Seamus McGrath organized the first annual Tour de Victoria. Joined by athletes like Simon Whitfield, and Trevor Linden, over 1000 participants completed a 140-km ride around the tip of southern Vancouver Island. The event was such a success that they've decided to do it again this year! On Sunday, June 24 cyclists will take to the streets of Victoria to cycle the challenging route.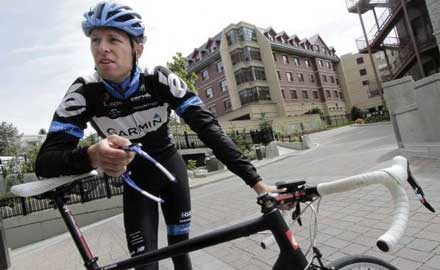 Although the Tour de Victoria is timed, it feels more like a mass participation bike ride than a race. Cyclists can choose to bike 50, 100 or 140 kilometres from three entry points in Langford, Sidney, or Victoria. Those who start in Victoria will complete the entire 140 kilometres and ride from Victoria to Metchosin to Langford, through the Highlands to Sidney, and back down to Victoria. Cyclists starting in Langford will bike 100km, and those starting in Sidney will bike 50 km. Because of the different options for entry points, the Tour de Victoria is appropriate for riders of varying levels. No matter which length you choose, cyclists will enjoy riding along some of Ryder's favourite cycling paths, which are arguably some of the best bike terrain in North America. To see the map for the full event, click here.
The ride starts and finishes at the BC Legislature buildings in downtown Victoria. If you aren't cycling, come to watch! Gather at the BC Legislature buildings to cheer on the cyclists as they arrive.
To register for the race, visit the tour's registration page. Registration for the 140-km route is $159, and includes a three-month pass to any GoodLife Fitness location. 100-km cyclists will pay $149 and 50-km cyclists will pay $99, and will receive a 30-day GoodLife Fitness pass.
So grab your bike, get to the gym, and get ready! We'll be cheering you on at the finish line.
Here's a Video from 2011!