Ulla – la!
posted on February 27, 2012 by Kara Johancsik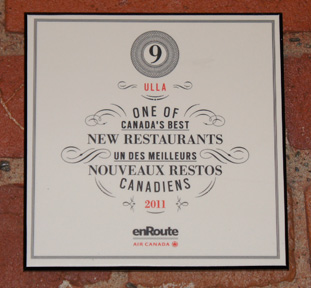 Ulla Restaurant has been quietly serving gourmet local food out of its location in Chinatown, Victoria for almost two years now, but only recently have people started talking about it. EnRoute magazine voted Ulla to be in the top 10 best new restaurants in Canada, Western Living named Ulla chef Brad Holmes on its list of Top 40 Foodies Under 40, and the Vancouver Restaurant Awards 2011 gave a special Premier Crew award to Ulla's owners, as well as naming Ulla a finalist in the "Best Victoria Restaurant" award. There's no doubt Ulla has a buzz around its name. So what's all the fuss about?
I went to find out. Ulla is located in Victoria's historic Chinatown, near the corner of Fisgard and Store Street, in an intimate, gallery-esque space. Its atmosphere is funky, modern, classy, and non-intimidating, and their menu focuses on local ingredients, ethically raised proteins, and fresh produce. To the not-quite foodie, the menu can be confusing (what exactly is squab breast, cipollinis, brioche, or kaniwa?) but the servers are warm, professional, and expertly informed to patiently answer your questions. We ordered an appetizer that can only be described as it's written on the menu: beets, goat cheese cream, apple jelly, almond crisp, citrus puree, raspberry vinaigrette. We weren't sure whether to expect a salad or a platter, but what we got was a beautifully presented plate bursting with colour and flavour. One taste of that apple jelly and citrus puree, and I had no choice put to proclaim this dish to be an adventure for the palette.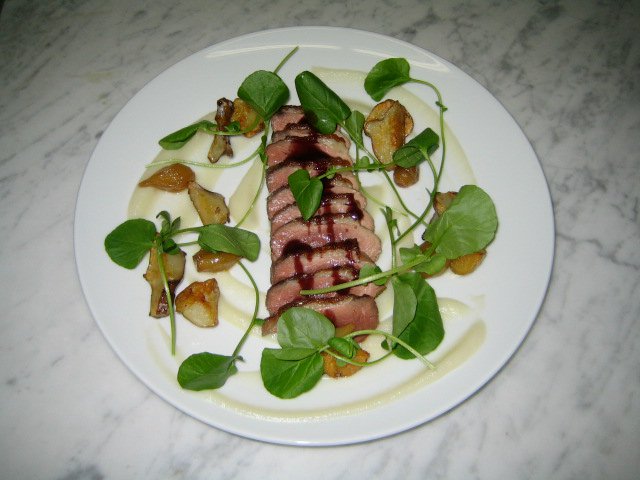 For the main, I ordered the shortrib steak with roesti, bacon, cipollinis, wild mushrooms, chard, and black garlic jus. Instead of asking me how I liked my steak done, the server informed me that the steak was slow-cooked for 48 hours, and arrived medium rare (perfect!). The result was a steak unlike any steak I've had before. If you want to know what steak is like when "it's like cutting through butter!" isn't a figure of speech, try this dish. The gourmet local mushrooms, chard, and roesti only made it taste better.
We finished off the meal with sous vide apple spheres, genoise cake, green apple sorbet, and vanilla mousse. After about 15 minutes of discussing the startlingly intense flavour of the green apple sorbet and the vanilla mousse, we sadly scraped the plate clean and called it a night. It was one of those meals you just don't want to finish!
Well, Ulla, you've lived up to your name!