Abbeymoore Back on Top!
posted on January 18, 2012 by Ian MacPhee
2012 TripAdvisor Travellers' Choice Awards
Recognize Abbeymoore Manor as #1 in Canada ... Again!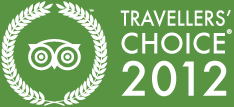 10 years ago two folks who knew nothing about running a B&B cashed in all their chips and threw everything they had into a 1912 heritage mansion in Rockland. How hard could it be we asked? Well ... little did we know!
So it was with great delight that we learned today that for the 7th time in the last 8 years reviewers of TripAdvisor have selected Abbeymoore Manor as the # 1 B&B Inn in Canada. We were also very pleased to represent Canada on the Top 25 B&B's in the World list at #24.
Recognition by our guests is humbling, gratifying and invigorating. It reaffirms that our efforts are worth it and that you like what we do! We are also proud to be in such great company with B&B's that show travellers why we really are "A Better Way to Stay"
Our thanks goes out not only to our guests for taking the time to share their experiences but to our partners in tourism and marketing as well as our amazing suppliers. We are privileged to be in a city as fabulous as Victoria, BC where world class dining, attractions and adventures abound.
On behalf of everyone on our team - Thank you, thank you, thank you!
Cheers to a great 2012
Abbeymoore Manor Bed & Breakfast Inn