Abbeymoore How-To Part 3: How to find the best Ceasar in town!
posted on March 23, 2013 by Kara Johancsik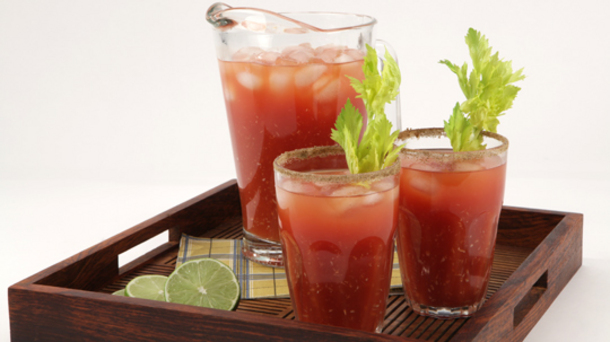 Cool and refreshing in the summertime, uniquely savory in the wintertime, the Caesar is one special drink. Victoria is home to a vast variety of venues that are home to an even more vast variety of Caesars. Here's how best to enjoy a Caesar in Victoria:
First, figure out what a Caesar is. The Caesar is a Canadian creation, so if you're visiting from overseas or south of the border, you might be unfamiliar with this celery-garnished cocktail. A Caesar usually contains vodka, clamato juice, hot sauce, and Worcestershire sauce, and is served with ice, a stick of celery, a salt-rimmed glass, and a wedge of lime. That's right—you can forget about sickly sweet coolers, with a Caesar, it's all about spicy and savory flavours.
Next, know where to go! Most bars and restaurants will make you a traditional Caesar, but it takes some local expertise to know where to get the best deal or taste the fancy variations.
For a cheap and cheerful Caesar, head to Swans Hotel and Brew Pub on Sunday nights. Not only are the Caesars on special, you can enjoy live bluegrass all night long.
The Irish Times on Government is also known for serving a delicious variety of Caesars. Choose from a traditional Caesar, a horseradish Caesar, or a pickled Caesar, then sit back in this cozy, crowded pub and savour all the garnishes in your cocktail.
For a gourmet Caesar, head to Ferris' Oyster Bar. Their seafood Caesar is an in-house special, and comes garnished with a fresh-shucked oyster and grilled prawn. It's fancy, full of flavour, and pairs well with much of their seafood-inspired menu.
Canoe Brewpub has an excellent selection of Caesars on their menu, and offers $1 off Caesars on Saturdays and Sundays.
Lastly, experiment! Now that you've tried a few varieties, continue to order Caesars at different venues and see what you like best. Don't forget to report back to us and tell us what you find!
Happy Caesar hunting!