Abbeymoore How-To's Part 2: How to Navigate Victoria's Public Transit System!
posted on February 1, 2013 by Kara Johancsik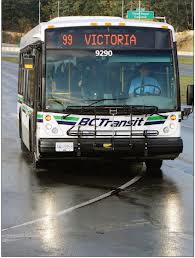 So you're visiting Victoria without a car. After you've finished congratulating yourself for saving money on the cost of gas and a vehicle, you're bound to wonder how you're going to get around. You could take a cab everywhere, although the price adds up quickly. So why not take the bus?
Victoria's public transit system is among the best in the country, and makes it easy and affordable to get wherever you need to go. Transit is readily available to attractions like Butchart Gardens, Fisherman's Wharf, Oak Bay Village, and more. Plus, you might just get to ride on one of our famous double-deckered busses on some of the busier routes. Taking the bus just got fun!
Here's what you need to do:
1. Figure out where you are, and where you're going!
The main trick to taking transit is knowing where you are and where you're headed. Have a look at a a map Victoria to get your bearings, and see how it fits onto the bus schedules by checking out the BC Transit map, which highlights bus routes on a map of Greater Victoria.
2. Find a route!
If you're heading to a popular destination (Butchart Gardens, the Art Gallery, or the Empress Hotel, for example), have a look at BC Transit's summary of routes and popular destinations in Victoria. This handy page tells you route numbers for all of Victoria's biggest attractions. Another way to find a route is to simply enter your current location and destination into Google Maps and select the public transit option (an easy how-to for this can be found here!).
3. Head to the bus stop!
From there, you simply need to find the closest bus stop and make sure you're waiting on the correct side of the street. You'll know you're at the right bus stop if the route number (for example, #75 or #28) is printed on the signs at the bus stop. Have a look at the traffic and make sure the cars going past the bus stop are traveling the same direction you'll be going. Be extra careful of this on the one-way streets closer to downtown. Hint: Yates St and Pandora Ave go towards downtown; Johnson St and Fort St go away from downtown.
Most busses arrive every 5 to 10 minutes on weekdays, or 15 to 20 minutes on weekends. To avoid waiting, look up your route online before you head out the door. Make sure to have a look at the holiday schedule if you're traveling on a holiday.
4. Got change?
Bus fares in Victoria are $2.50 for all ages. If you plan on catching the bus a lot during your stay, it may be worth it to buy a package of transit tickets at the closest 7-Eleven rather than carry around pockets full of change.
If the route you're taking involves transferring busses, make sure you ask the bus driver for a transfer ticket when you get on board. Transfer tickets proves to other bus drivers that you've paid your fare, and last for up to an hour.
5. When in doubt, ask!
Victoria-ites are friendly. If you need help getting your bearings or getting on the right bus, don't hesitate to ask the bus driver, your innkeeper or a shop owner nearby. We're happy to point you in the right direction!
A rider's guide, available online or in most busses, may also help you out.
Happy transiting!