Find a race of Antarctic proportions at the Royal BC Museum!
posted on April 10, 2013 by Kara Johancsik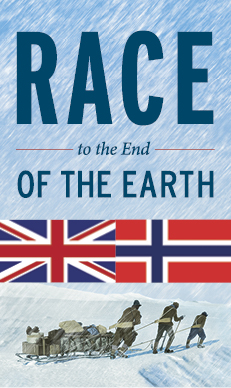 When explorers venture into the coldest, harshest climates in the world today, they take the latest gear and technology—gortex jackets, lightweight collapsible tents, and -40C sleeping bags. The explorers of the early twentieth century had no such luxuries, and still managed to persist through the harshest conditions.
In 1911 and 1912, two crews set off from the Ross Ice Shelf to reach the South Pole then journey back. Only one team returned. Discover what the journey of British Captain Robert Falcon Scott and Norwegian Roald Amundsen was like as their two teams raced to reach the South Pole. Through photographs, paintings, artifacts, and to-scale replicas of Scott's hut at Cape Evans, you'll gain a sense of these two men's journeys and the hardships they endured.
As you travel through the exhibit, you'll learn the experiences and personalities of different members of each crew, compare the British and Norwegian gear, and see a stunning digital projection of what scientists know about Antarctica today. Guests can choose a character card and assume the role of one crew member as they explore the exhibit, or participate in interactive exhibits and videos.
This chilly tale is one you won't forget! The exhibit runs from May 17 – October 14, 2013. Admission to the Royal BC Museum for adults is approx $21.00 at the door, or can be included with your stay at Abbeymoore with purchase of our Race to the End of the Earth package.