Learn to cook with The London Chef!
posted on June 6, 2013 by Kara Johancsik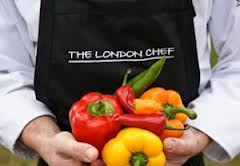 Victoria, BC is becoming ever more renowned for its dining scene. The city has attracted some of the best chefs and restauranteurs in the country, which means that visitors to the city have a bounty to choose from when it comes to good eating. Now imagine you could take the tastes of Victoria home with you.
The good people at The London Chef offer cooking courses for everyone: experts, novices, singles, couples, families, and children. They'll teach you to make gourmet meals in a way that makes you feel like you're in your own kitchen. Forget ordering takeout, a class at The London Chef will teach you to confidently cook Thai cuisine and traditional Indian food. Want to learn how to cook Vancouver Island seafood like the locals? Or how to master famous dishes from the south of France? What about creating Spanish tapas, or cooking up a delicious Mexican meal? Check out their different cooking classes and pick one to your taste!
The London Chef also has a café and pantry full of ingredients, gifts, and delicious lunches to go. Check out their mouthwatering lunch menu, and keep in mind that on Wednesdays they serve up freshly cooked Italian specials (made by an Italian chef, of course), and on Thursdays you can enjoy a hearty Chef's Plate.
There's nothing quite like home cooking, especially if it's restaurant-quality. Book a course online or call 250-590-1865 to book a cooking class for next time you're in town!