Tour-riffic Tours Part 5: See the best of the Island with Island Time Tours!
posted on July 19, 2013 by Kara Johancsik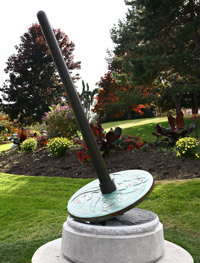 There's no doubt guided tours can enhance an experience. If you're visiting Victoria and want to experience more than the downtown core, consider the tours offered by Island Time Tours. Their unique tours don't only give you an exceptional experience of Victoria's most famous attractions, but also of places that make Vancouver Island famous, such as the West Coast Trail and Salt Spring Island.
Island Time Tours offers day tours that depart for groups of 4 or more. Take a tour of a well-known attraction such as Butchart Gardens or Craigdarroch Castle, or see what happens just outside Greater Victoria on the beaches, farms, vineyards, and islands of the surrounding area. Explore the fresh food growing on Saanich Farms on a Saanich Wine and Farm tour, travel through 500-year-old forests, vineyards, and ocean vistas on a tour of Cowichan Valley, or peruse artisan's markets and rugged coastline on a Salt Spring Island tour.
Have you ever hoped to see the West Coast Trail, but lack the time or gear to do the whole hike? Take a tour, and the gear, food, and a comfortable base camp are all provided. The tour leaves from Victoria and begins with tales of the local history of the area. Once you get to the Nitinaht Village, you'll meet with a local First Nations guide who will show you to the trail point. From there, it is an easy 2.5km hike to the base camp. This tour is new this year, and makes the world-famous West Coast Trail an easy and accessible trip. Check their site for details!
'
To book your tour, call 250-477-3322. Prices vary according to the length and location of each tour. Happy touring!