Rifflandia, the 2013 edition!
posted on August 7, 2013 by Kara Johancsik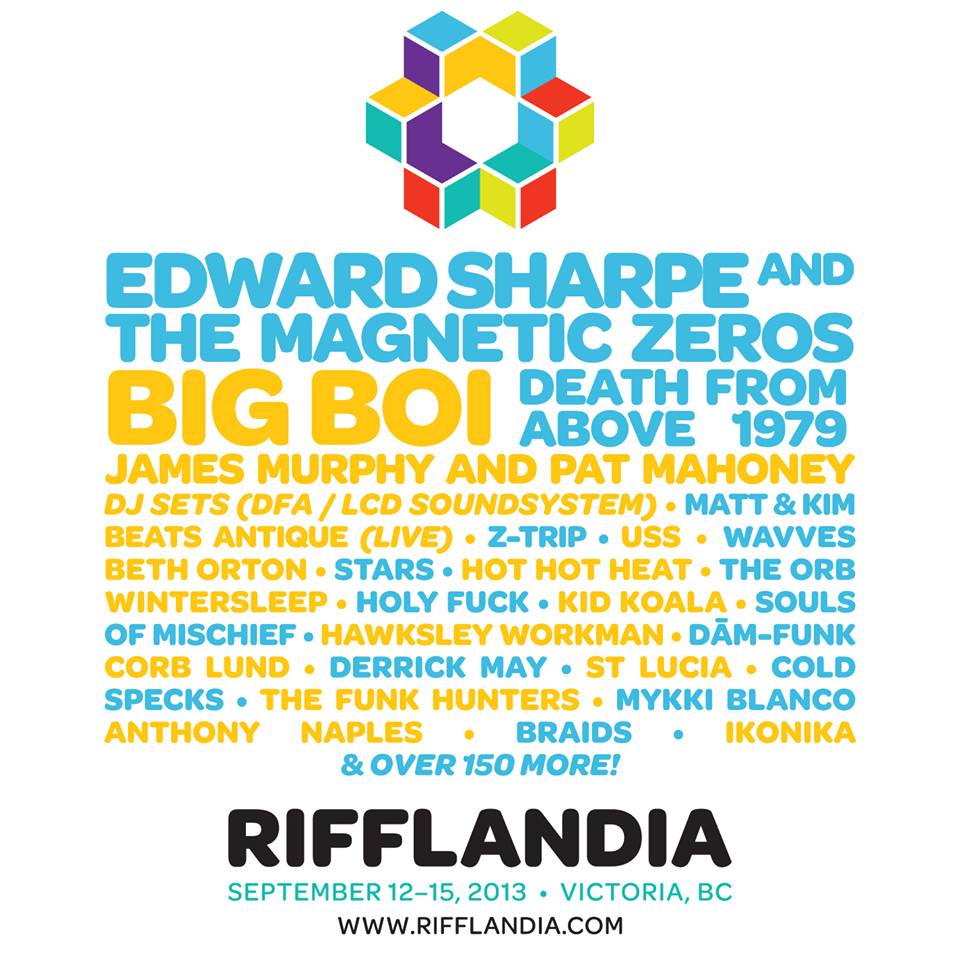 Five years ago, Rifflandia was a small, up-and-coming festival that attracted only the hardcore indie music hunters. Today, it's one of Victoria's biggest annual festivals, with plenty of big names in the lineup to rock out to and lots of local talent to discover. Rifflandia has consistently shown its ability to improve with every year, and this year is no exception.
Rifflandia showcases mostly Canadian artists, although there are plenty of performers who have come from around the world to play at the festival. Headliners for this year's festival include Edward Sharpe and the Magnetic Zeros, Death from Above 1979, Hot Hot Heat, Wintersleep, The Funk Hunters, Hannnah Georgas, Hawksley Workman, and Stars. Head to the smaller venues in Victoria's nightclubs and restaurants for acts like Steph MacPherson, Spaceboots, Willhorse, Hey Marseilles, Lynx, and Aidan Knight.
Rifflandia will take place during the evenings of September 12th – 15th in venues around Victoria, with the central venue being Royal Athletic Park. Other venues include the Alix Goolden Hall, Metro Theatre, Sugar Nightclub, The Victoria Events Centre, Market Square, the Atrium, and more. Not all venues are licensed or all-ages, and you can purchase your wristband based on the kind of festival experience you're looking for. For the full festival experience, go for the Super Pass, which gets you access to Royal Athletic Park for three days and three nights, as well as access to any other nighttime venue around Victoria. You can also choose either Park Pass or a Night Pass: Park Passes will allow you into Royal Athletic Park, and Night Passes will allow you into any other nighttime venue. The cost for the Super Pass is $165 and there are limited writsbands available. Park Passes are $125.00, and Night Passes are $65.00. If you want special festival treatment for this year's Rifflandia, treat yourself to a VIP Pass for $295, which will allow you to skip the lines and gain access to exclusive VIP areas, private washrooms, complimentary coat check, and free snacks. Purchase your tickets online or at vendors around Victoria!
Rifflandia brings the city of Victoria alive with music each year. It's an event that you won't want to miss! Check out the lineup ahead of time and plan which shows you'll attend.
Need a warm place to rest in after a night out seeing great music? Abbeymoore's got an exceptionally comfortable bed waiting for you, and a breakfast that'll make you feel as good as new the next day!