The Brewery and the Beast returns!
posted on August 23, 2013 by Kara Johancsik

There's no doubt that Victoria's many gourmet options for vegans and vegetarians have defined its culinary reputation, but there's more to Victoria's cuisine than smoked tofu and quinoa. For the meat lovers among us, The Brewery and the Beast annual celebration of meat promises to satisfy even the most dedicated meat enthusiasts.
On the evening of September 22nd, the festival will kick off as local chefs offer their best dishes to the public at the Phillips Brewing Company. You can expect to find classic barbecues, succulent roasts, smoked meats, homemade sausage, ribs, steak, charcuterie and ethnic-inspired cuisine. Craft beers, cider, homemade soda, and traditional iced tea will wash it all down, and live music and dancing will help get the digestive juices flowing.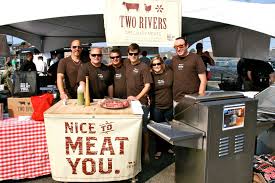 While you're sinking your teeth into a juicy steak or a succulent pork roast, know that the meat you're enjoying comes from local farms on Vancouver Island, the Lower Mainland, and the Fraser Valley, and are free from hormones, ethically raised, and free range. The festival strives to demonstrate the difference between mass-produced meat and the meat that comes from local, sustainable farms, and the best way to tell the difference is to taste it!
Tickets may be purchased through their website, but get them fast – this event is popular!