Victoria's Third Annual Tweed Ride!
posted on September 13, 2013 by Kara Johancsik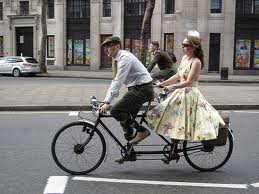 Victoria hosts several mass cycling events every year, but there's only one where the riders wear tweed jackets, shiny shoes, and pocket watches. The annual Tweed Ride is a group biking event in which all cyclists do their best to look dapper while cycling through Victoria en masse.
Tweed Rides are known worldwide, thanks to the effect of YouTube videos and Twitter feeds. They began in London, England in 2009 as a fundraising event for the Bicycles for Humanity Project, which aims to deliver a shipping container full of bicycles to Namibia. Organizers thought that people would be more likely to join a mass cycling event if it offered a "bit of style," so they invited riders to wear tweed, trim their moustaches, and celebrate the days of a bygone era.
Anyone willing to participate should purchase a ticket and meet at St. Ann's Academy at 11:00am on September 28th, wearing their garden-party best. The ride start off with a group photo, then the tweed-bearing cyclists will take over downtown Victoria, finishing their ride in a to-be-determined outdoor location for a picnic. At the picnic, you can showcase your cooking skills, or pre-order a picnic basket from Chorizo & Co. Bring your best china and silverware for the picnic, and come prepared to engage in games such as boules, croquet, ring toss, and moustache grooming.
Your ticket purchase goes towards helping Bicycles for Humanity. Visit the event website for more information, and follow their Facebook or Twitter feed for updates.
Cheerio, old chap—we'll see you there!