A Wreath-Cycled Exhibition
posted on November 13, 2013 by Kara Johancsik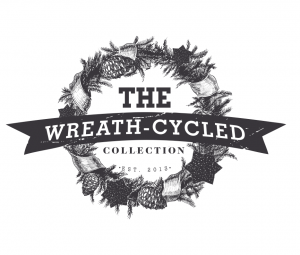 While crowds flock to shopping malls and box stores to purchase Christmas decorations and accessories for the season, the Wreath-Cycled Collection at the Robert Bateman Centre has a different idea. By taking old non-perishable materials and transforming them into beautiful Christmas wreaths, Robert Bateman, corporate partners, and the creative public will produce a beautiful Christmas exhibit with a sustainable message this season.
The Wreath-Cycled Collection will combine the creative works of artists and the public. Robert Bateman himself, the greater public, and some corporate partners will make wreaths by recycling, or rather, "upcycling," non-perishable materials to produce a work of art in the form of a Christmas wreath. Upcycling refers to reusing a discarded material in a way that creates a product that is of greater value than the original. On November 21st, the finished products will be unveiled for the Wreath-Cycled Collection, and photos of the wreaths will be placed online for a sealed bid auction on usedvictoria.com.
The Wreath-Cycled Collection will be available for viewing at the Robert Bateman Centre from November 23 to January 5. The public is invited to vote for their favourite wreaths for a minimum $2 donation to help support the Robert Bateman Foundation. Located at 470 Belleville Street in the Inner Harbour, a visit to the Robert Bateman Centre can easily be part of a Christmas-themed stroll through Victoria's festive downtown core.
The Robert Bateman Centre is home of the biggest collection of original work by Robert Bateman. A resident of nearby Salt Spring Island, Robert Bateman has been and continues to be one of Canada's most prolific wildlife artists. In addition to being a famous wildlife artist, Robert Bateman is also a nature lover, conservationist, and author. Read more about the Robert Bateman exhibit here!